Discussion Starter
·
#1
·
I would like to dedicate this cake to my Great Great Grandma, for whom this recipe would not be possible. Thank you Great Great Grandma; The inventor of the original jelly cake.
Ok folks. VeggieCat here and have I got a recipe for you! This recipe has been passed down a few generations and all the way to me. I've created a vegan version of the beloved Jelly Cake which my family holds near and dear. Lets get started.
What you need"
2 1/2 C. of Self Rising Flour (my family makes their own, some flours DO have animal products in them. So read those labels.)
1/2 cup of Vegan Margarine
1 1/2 cup of organic cane sugar
1 1/2 cup of unsweetened soy milk
1 capfull of vanilla.
Vegan jelly or preserves of your choice.
(if you INSIST on using plain flour use 2 tsp of baking powder to even it out)
Cream the margarine and sugar. Add 1 spoonfull of jelly to the mix, stir in with a tbs of water. Add flour and soy milk and mix it all up until smooth. Add that capfull of 'nilla and stir!
(I couldn't help but get a little creative with the vanilla XD)
Let rest for a little bit. I want you to take two, round 8" cake pans. Lightly coat the inside of them with the margarine. Then lightly dust them with flour. Pour the batter evenly into the cake pans. Slam the cake pans on the counter a few times to get rid of the bubbles. You don't want your cake to look like Swiss cheese.
Preheat oven to 350 degrees F. Place cakes on the middle rack and let cook for 17-30 mins or until you can press into the middle of the cake and it springs back up.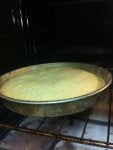 When they're ready. Pull them out of the oven. Turn the pans upside-down on cake racks and put wet towels over the pans to make steam push the cakes out and let nature take its course.
(although sometimes nature needs a push)
After I climbed a latter and 3 shelves to get my Nana's antique cake display, I took the first layer and GENTLY placed it on there.
Now at this point you can put whatever you want on the cake. But I decided to go with strawberry preserves.
Second verse same as the first!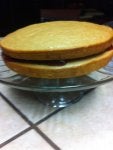 Slice and serve with a side of dairy free ice cream! <3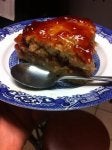 The family verdict? 10/10 from Grandpa
Hope you all enjoy baking this wonderful desert! :laugh: