i wouldnt be moving there until like 4 years, but i guess asking now isnt a bad idea. it looks really nice there from videos ive seen and my favorite band is from there...The Maine. i know this takes away from the question, but since i assume a lot of you are from arizona...have you heard of The Maine? im looking for a place that has friendly people and good restaurants and good shopping and a safe area. hope that helps give an idea what im looking for.
---
I've just begun having my fun. <3
Never heard of The Maine but looked them up and they are from Tempe. Tempe is where the main campus of ASU is located. Mill Ave. in Tempe is a fun place to hang out.



Like everyplace else Arizona has it's good and bad points. My husband and I moved here a little over 5 years ago from Massachusetts. We live about 40 miles southeast of Phoenix. You will not find a lot of strictly vegan restaurants (I have found 2 so far in the Phoenix area) but there are more that have veg friendly options (Pita Jungle is my favorite). I found it difficult to make friends here. We barely know our neighbors as it seems like everyone either lives in their house or in the backyard behind their block walls. You may have an easier time as I am assuming you are younger (hubby and I are in our 40's). We just recently started making some good friends by joining meetup and finding groups that looked interesting. One of the groups we joined are folks who like to dress in costume and attend events, parties, pub crawls, etc. They are a great group of people.



Do you know what part of the state you would like to live? If it's the Phoenix area (aka "Valley of the Sun") I could help but I don't know Tucson or anyplace in the northern part of the state too well.



Arizona does have some beautiful scenery that takes my breath away...
Arizona is beautiful! Good for you. (: Of course, I can't wait to leave, buuuut...



Yeah, Tempe is a good place, though every city has it's ups and downs. It may not be this way in four years, but there are some apartments near the highway they are almost literally giving away, they're so desperate for people! Of course, they're not the greatest, but my point is that housing is relatively cheap in Tempe. (: It's close to the zoo too!
I live in the southwestern part of Arizona. It is very beautiful. I live in a smaller town and the people are very friendly, the schools are nice the community is clean (if a bit old) and the neighborhoods are safe. While we don't have the same kind of entertainment or resturaunt choice as the bigger cities, we are wealthy by having so much nature around us. If you like to hike, camp, bird watch, star gaze, tube down a lazy river,hunt for gems and minerals.ect...Arizona is the place to be.
This is the view down the street from my house. We hike up those mesa's all the time. And we camp at the top of the mountain every year. This mountain is also home to the largest telescope in the northern hemisphere. They pick Arizona because there isn't much "Light Pollution" and the skys are clear almost 320 days a year. I believe the sister telescope is in southern Africa.
Photo taken in November, early in the morning two days after the snow hit it.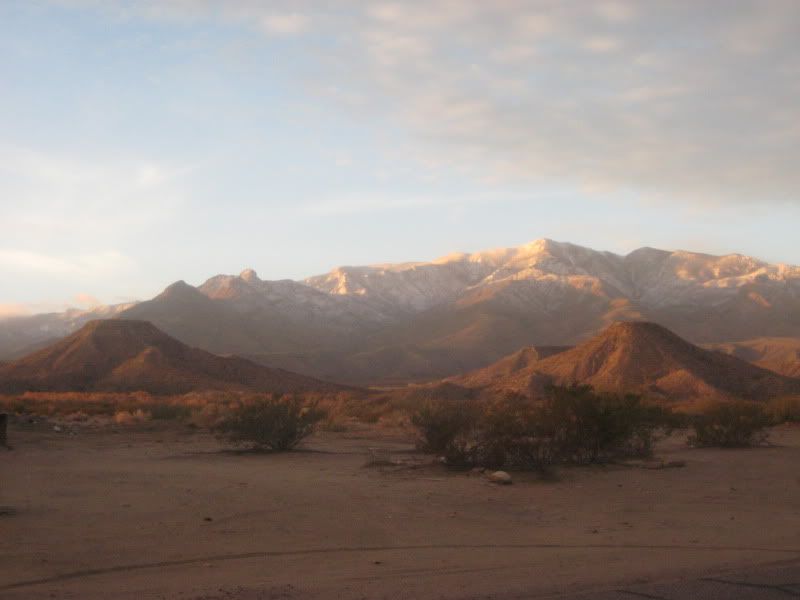 I moved out to Tucson back in July from PA. I like it out here. UoA (University of Arizona... don't bother with that ASU garbage, ha j/k
) is based out of here, nor is it as big as Pheonix. I'm sure there are some less favorable places here but I haven't really found them yet. When I left PA, I was also living in Philadelphia and I don't think anywhere down here can even compare to north Philly lol. There's a lot of hiking. I saw Tucson's equivalent to the Tour de France (Tour de Tucson, I think... go figure). Shopping, hmm. I'm not quite sure. I'm not a good person to ask about that. There always seems to be something going on if you're willing to look for it.
I am going to honestly say that I couldn't agree less with Amarty. In my life I have lived in: Portland Oregon, Anchorage Alaska, Palm Springs California, Los Angeles California, Western Montana, Western Wyoming, and finally Tuscon Arizona. I have to say that the worst place of all hands down was Tuscon. I lived there for 3 years. It was hot hot hot. Even in January it was still upper 80's. It was grungy as all get out. I have never seen a city so grimy and with trash everywhere. There were a handful of places in town that were decent, but only the rich communities. Crime though the roof. I looked at the crime stats. It was worse than LA, NYC, Chicago, Miami - I could not find a city with higher stats. Gunshots all the time, and police helicopters were a near nightly thing.



And don't get me started on the University of Arizona. I have been to 5 colleges in my life and the worst was UA. Really low test standards, sup par academics, and an atmosphere of party party party - oh maybe we should go to class sometime this month. They have certain programs that are stellar - like the Space Sciences. That Pheonix Mars Mission? Yeah, belongs to them. Great Linguistics program too. The rest of the place? Dumbed down to a junior high level I kid you not. Weekend nights? Don't stay near campus if you don't want to clean the beer bottles off your lawn every Monday.



I hate to sound like a hater, but really I have never lived somewhere that made me feel icky for being alive like that.



/end rant.


I've lived in Tucson for the last 3 years and I have to say that Arbre's version of the city does NOT match up to my experiences. It's dusty, yeah, but not grimy. I actually see a lot LESS litter here than many other places I've lived. The mountains are GORGEOUS, the Sonoran desert is as well, and so long as you stay out of S. Tucson crime is really not bad. It's a lot more liberal than most of AZ, has a great art scene, it's surrounded by state and national parks, the desert is wild and beautiful, and I have made some wonderful friends here. Yeah, it's brutally hot in the summer, but it's the desert. It has nothing to do with the city, and you can always go up Mt Lemmon and escape the heat. I think that high 80s for January is a slight exaggeration - it's been low 60s to mid 70s here since December. Not even close to uncomfortably hot. I haven't had to run AC
or
heat in two months - it's just right outside. I think Tucson is worth a visit at least to see if you like it. If not, try Flagstaff.
Phoenix is personally not my cup of tea (and Tempe just from proximity to PHX) because it's so huge and the sprawl is pretty bad. Plus it's the kidnap capital of the US! But my tattoo shop is there and I love them, so it's got it's good points too!
Posting Rules

You may post new threads

You may post replies

You may not post attachments

You may not edit your posts

---

HTML code is Off

---