Newbie
Join Date: Sep 2017
Posts: 11
Fasting to Veggie, help needed
---
Hello Veggie board forum it's great to be here and I'm looking forward to speaking with you all.

I am 25 years of age and until 2 weeks ago I have never gone a day without eating meat in my life.

This all started 2 weeks ago when I was researching online about water fasting and the benefits it can have for your body. From the 24/8 I have only drunk water, yes, just water, No food, no other drinks just water. To be honest it hasn't been that bad but I'm not here for that. Since I started the fast I have been searching online about healthy diets, what meats do to your insides and everything else so I have come to a decision to become a vegetarian when I finish this fast in 2 more weeks.

When I finish the fast I will have to eat veggies anyway due to my stomach being shut down and will find it difficult to process foods so why not carry the food life style on?

As above I have never gone a day without meat this means I have no clue about any veggies dishes that I'm hoping you guys can help me out with a few good recipes. What veggies go with what pasta dishes.

I have also seen the fake meat being sold in the super markets, a product like "Quorn" what do you guys think of this product?

Thanks
Veggie Regular
Join Date: Jul 2016
Posts: 397
I ate quorn years ago, I liked it. I have tried some others recently, there are OK, but I find personally more natural, less processed foods tend to be better on taste and I always have very good digestion and very healthy feeling when I avoid legumes and processed foods. (I also avoid all animal products.) I am not saying legumes and processed foods make me feel bad, I still feel OK.

The research on the benefits of fasting is fairly recent and it may be too early to draw definite conclusions. For the latter half of your fast, be careful, listen to your body, and lose common sense. You could stop early or only semi fast if needed and still achieve weight less and possibly some of the other claimed benefits.

I read the 5/2 Fast Diet book after a reccomendation and was going to try it but a vegan and vegetarian diet ultimately bought my weight down without the need for fasting. I was considering trying 6/1 instead but now I am at my ideal weight so I don't need it so I never tried it. I sometimes eat one piece of fruit instead of a meal to help with weight, I actually do that less and less, like once a week if I am 2 kilos over my ideal weight, and that is it. Before I was vegetarian I was trying 2-3 "meals" like that a week. I am not convinced of the other benefits of fasting (other than losing weight I mean) I admit I may not have looked in as much detail as you, but I think it is inconclusive. If someone is low on energy and irritable as result of fasting and this causes them to crash their car and cause an accident, how do we weight this against the benefits?

Green and red peppers go well with a pasta dish both in terms of taste and appeance. Also peas, sweetcorn, any veg really though. If you have pasta + 2 different types of veg + red and green peppers, it tends to work really well. I can't really help with recipes, I do simple things. I can give you simple ideas if you like but not proper recipes.

Some people find beans/legumes challenging for their digestion, it varies, I wonder if you should start with veg, fruit, and grains, and then add in a small amount of beans/legumes. Don't take on too much all at once....

If you cut out meat you need to research on getting a vitamin B12 source, if you cut out fish you need to check about omega 3 source. A vegetarian diet should be just as healthy or better as one with meat on average, although results vary by person.

One more thing - a vegetarian diet can cause low energy or weight loss. You need to eat a bit larger portions of vegetables, grains, fruits to get the same energy/calories as meat; keep an eye on this.

Good luck.
Quote:
Originally Posted by
Kitfit
Hello Veggie board forum it's great to be here and I'm looking forward to speaking with you all.

I am 25 years of age and until 2 weeks ago I have never gone a day without eating meat in my life.

This all started 2 weeks ago when I was researching online about water fasting and the benefits it can have for your body. From the 24/8 I have only drunk water, yes, just water, No food, no other drinks just water. To be honest it hasn't been that bad but I'm not here for that. Since I started the fast I have been searching online about healthy diets, what meats do to your insides and everything else so I have come to a decision to become a vegetarian when I finish this fast in 2 more weeks.

When I finish the fast I will have to eat veggies anyway due to my stomach being shut down and will find it difficult to process foods so why not carry the food life style on?

As above I have never gone a day without meat this means I have no clue about any veggies dishes that I'm hoping you guys can help me out with a few good recipes. What veggies go with what pasta dishes.

I have also seen the fake meat being sold in the super markets, a product like "Quorn" what do you guys think of this product?

Thanks
You might enjoy meatless meals that are similar to meals that you already enjoy - pasta, burritos, stir-fry dishes, bread-and-dips, nut butter sandwiches, potatoes, things like that. It can be tougher to replace "meat only" dishes, like steak and chicken drumsticks.
The "ChooseVeg" website has good information about becoming vegetarian/vegan. This page summarizes vegan nutrition:
http://www.chooseveg.com/foodplate
. This webpage does the same, but with more detail:
http://www.brendadavisrd.com/my-vegan-plate/
. This page shows very easy vegan meal ideas:
http://www.chooseveg.com/buildameal
A note about the "Vegan Plate" on the ChooseVeg webiste (below). When it says to eat 5+ servings of grains per day, a "serving" isn't the huge amount shown on this plate. One serving of grains is only 1/2 cup of cooked grains. See the Brenda Davis Vegan Plate webpage for more info.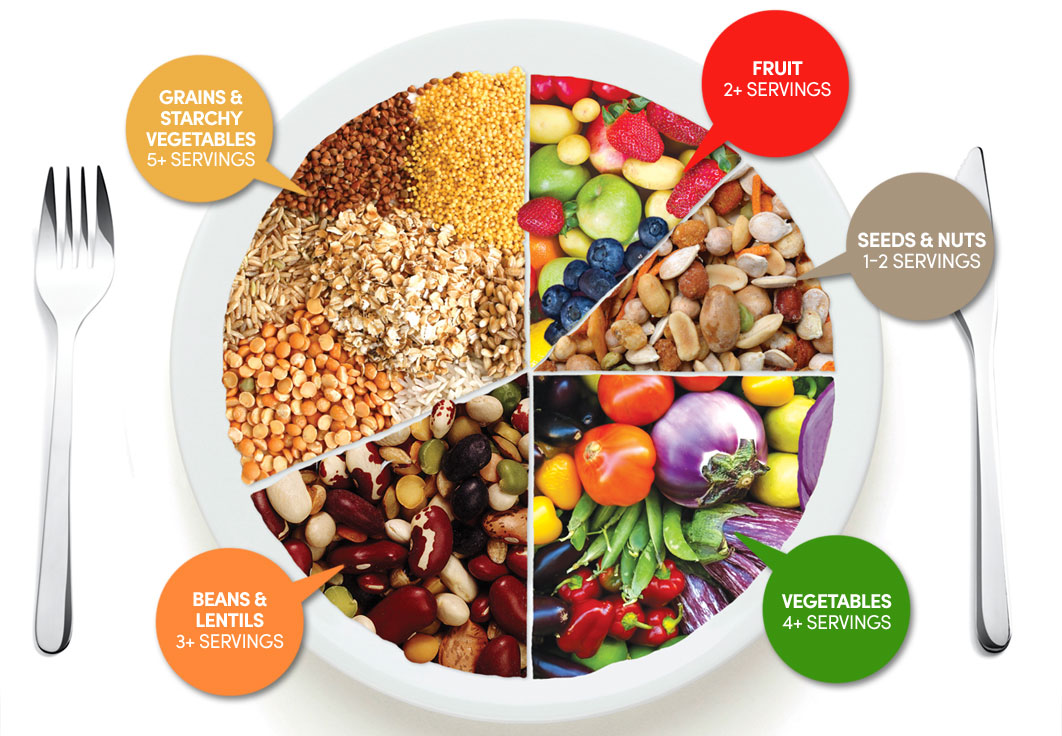 Don't be afraid to eat plenty on a vegan diet. Assuming that you avoid junk food and fried foods, and assuming that you eat oily foods (nuts, nut butters, seeds, avocados) in smaller amounts, vegan diets tend to be naturally low in calories. You'll need to eat plenty, in order to get enough calories to maintain your weight and energy.
.
.
---
_________

"Under the twinkling trees was a table covered with Guatemalan fabric, roses in juice jars, wax rose candles from Tijuana and plates of food — Weetzie's Vegetable Love-Rice, My Secret Agent Lover Man's guacamole, Dirk's homemade pizza, Duck's fig and berry salad and Surfer Surprise Protein Punch, Brandy-Lynn's pink macaroni, Coyote's cornmeal cakes, Ping's mushu plum crepes and Valentine's Jamaican plantain pie."

from Witch Baby, Francesca Lia Block, 1991

---
Last edited by David3; 09-07-2017 at

09:05 PM

.
Newbie
Join Date: Sep 2017
Posts: 11
Before I started the fast I did tons of research day in day out reading until my eyes were saw and everything I am doing is perfectly safe I also know all the symptoms if I must start to eat again. I like the idea of simple foods because I get a little lazy in the kitchen department so I will be trying out some of them! I am deffo going to try to route of the meals I already eat just take the meat out. I think this will be a good way to start and bring me out of the meat eating habit.

Thanks for the replies guys
Congratulations! What a good decision to go veg and a very impressive achievement with the fasting.

If you're also thinking about avoiding dairy and egg, I believe you'll want to avoid Quorn products. There are so many interesting vegan products now, like Gardein, Beyond Meat, etc.

ChooseVeg (mentioned above) does have some very simple recipes and meal plans and is a great place to start.

If you want to stick to cleaner foods, which might be wise as you get your digestive system up and running, Oh She Glows is a very popular site. It seems logical to me to start slowly adding back solid foods like fruit and bland grains like rice and oatmeal. These should be gentler on your stomach.
Newbie
Join Date: Sep 2017
Posts: 11
At the moment I just want to get the meat out of my diet. I think if I cancel it all out at once then I will not achieve my goal and will be back to eating meat in no time, step by step is best for me. For example, a friend has just told me of an awesome recipe book here
http://www.used.forsale/vegetarian
she said this would be a great place to start my new way of life. could any of you guys suggest any others?
Posting Rules

You may post new threads

You may post replies

You may not post attachments

You may not edit your posts

---

HTML code is Off

---